Northwestern University; Alice S. Millar Chapel: BTC Addresses Unforeseen, Concealed Conditions to Complete Facade Repairs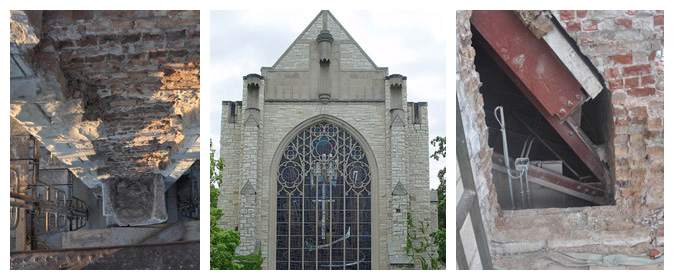 Alice S. Millar Chapel, on Northwestern University's Evanston Campus, is a steel frame structure built in 1962. The exterior facade of this religious facility is clad in lannon stone, buff limestone, and bluestone. Large stained glass windows are located at each elevation and full-height, 60-foot tall buttresses are located at each corner of the building and intermittently on its east and west sides.
As a result of its evaluation, BTC's repair design included buttress re-construction at three of the building's four corners. Additional facade repairs included comprehensive repointing, localized lannon stone replacement, bluestone replacement and joint re-configuration, sealant replacement, new roofing at the top of the buttresses, and application of water repellant.
During the dismantlement of the buttresses as part of the Chapel's repairs, unforeseen conditions were encountered which required an expedited, updated design and greater coordination with the contractor during construction.
To further improve building performance, BTC required that newly installed bluestone units be notched into the surrounding lannon stone during construction to eliminate skyward sealant joints. The purpose of this design element was to decrease the possibility of future water infiltration at these locations.