Building Technology Consultants, Inc. (BTC) is honored to have received the 2021 ICRI Chicago Chapter Award of Merit for Sealant and Concrete Louver Repairs at 474 North Lake Shore Drive. The ICRI Chicago Chapter held its awards dinner meeting at Westwood Tavern in Schaumburg, Illinois, on Thursday, February 24th. BTC's Principal, Christopher Kottra, was in attendance and accepted the award on the company's behalf. BTC has been a longstanding member of ICRI and looks forward to many more years of membership.
---
OVERVIEW OF PROJECT
The subject building is a 61-story concrete-framed structure completed in 1990. The facade consists of precast concrete panels with an exposed aggregate finish. Concrete louvers fill openings in the facade panels at the bottom 15 floors of the north, south, and east elevations in lieu of windows. These louvers allow natural ventilation of the garage. Salt spray from Lake Shore Drive contributed to the corrosion of reinforcing steel and concrete deterioration at some of the louvers (Photo 1)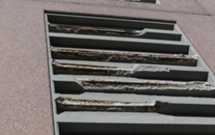 PHOTO 1
BTC developed 4 "levels" of long-term repair options for the HOA's consideration. These options included conventional concrete repairs with an acrylic coating, conventional repairs with an elastomeric coating (Photo 2) and replacing the louver rungs with a pre-fabricated aluminum louver. A combination of repairs was selected to optimize the cost-effectiveness of the repairs. The louvers on the 2nd through 9th floors were the most susceptible to overspray of de-icing salts. As such, the owner selected the more robust repair option at the lower flors. Such repairs were not warranted for the upper levels.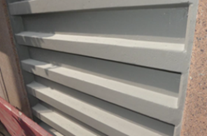 PHOTO 2
Above the 15th floor, joints between precast concrete facade panels are sealed with an elastomeric sealant. The HOA had been budgeting for a proactive comprehensive sealant replacement project given the age ofthe building and the expected service life of the sealant. A facade repair project was implemented in 2019, which combined louver repairs with the comprehensive sealant replacement at the Tower. The project finished on time & under budget despite some logisitcal challenges.
BTC's Principal, Christopher Kottra, will be presenting on the challenges of this project at the 2022 ICRI Spring Convention in Baltimore, Maryland on April 5, 2022.