BTC Completes ANOTHER Fall Arrest Roof Anchor Installation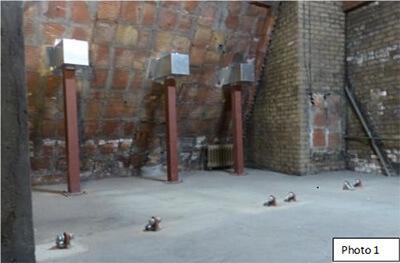 The 1120 North Lake Shore Drive Building is a 20-story residential building completed over 90 years ago. The building features patinaed standing seam copper gable roofs, setback terraces, and a narrow low-slope roof supported by original structural steel, hollow clay tile, and a topping slab. The low-slope roof is parallel to Elm Street, and a gabled attic on the east elevation is parallel to Lake Shore Drive, forming the building's L-shaped footprint.
In 2017, The 1120 Lake Shore Drive Building Corporation retained Building Technology Consultants, Inc. (BTC) to evaluate the feasibility of installing fall arrest roof anchors to safely accommodate window washing and facade access. BTC's Project Manager, Mr. Josh Summers, states that the project was complicated due to lack of structural drawings, concealed structural steel framing members, and the steep-slope gable roof on the east wing of the 1925 building. This required a significant investigation to locate members suitable to support OSHA-prescribed fall arrest loads, including exploratory openings, ground penetrating radar (GPR), and steel coupon testing, followed by a structural analysis.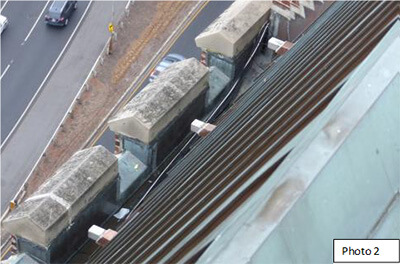 BTC's evaluation indicated that the existing low slope roof structure would be insufficient in supporting the OSHA-prescribed loads for personal fall arrest equipment. As such, the roof structure was required to be reinforced with new structural steel welded to existing steel framing members and embedded in the concrete roof slab. Eighteen fall arrest anchors were then attached to the new structural steel.
To address the unique layout of the east attic, BTC designed tieback anchors attached to existing attic floor support steel and safety line guides penetrating through the gable roof (Photos 1 and 2). The safety line guides consisted of stanchion-supported tube steel with operable insulated enclosures within the attic space.
For this project, BTC provided Evaluation, Design, Bidding Assistance, and Construction Phase services. For more information about this and other BTC Projects, please visit our Projects page.